Fabricator Benefits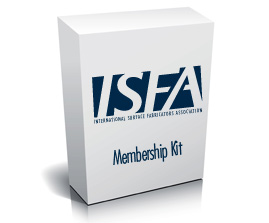 Education & Training
Total Fabrication Training: Renowned for the quality of its hands-on instruction, Total Fabrication Training (TFT) trains your employees in the latest fabrication/repair practices and value-added techniques.
Onsite Instruction: Can't come to us but want the latest fabrication and business training? ISFA will come to you. Mini-training opportunities are available in selected cities across the USA.
Lead Generation
Use the power of the Internet to increase your sales. ISFA's extensive Web presence positions your company in front of potential customers all day, every day. ISFA members receive free lead generation reports on a regular basis.
Industry Magazine
Countertops & Architectural Surfaces magazine is the official publication of ISFA. This magazine comes out quarterly with a fifth Buyers' Guide issue in September, and all ISFA members get a free subscription. This magazine stands out as the only publication to include information on the materials you are working with! With news, product information, industry events and useful articles designed just for the industry, this publication is made for you.
Industry Awareness
ISFA promotes the benefits of decorative surfacing to the world. Your membership helps make it possible to reach architects, interior designers, commercial specifiers, design/build contractors, remodelers and consumers through press releases and feature articles.
Peer Mentoring
Network with experienced and successful fabricators from around the world to broaden your view on the full range of countertop options and fabrication techniques. ISFA gives you the chance to cross-pollinate concrete techniques and craftmanship with other countertop disciplines.
Strategic Partnerships
Save money through discounts from industry vendors and special group buying opportunities.
ISFA Certified Professional
Using an ISFA Certified Professional is the end-user's ultimate assurance of a job well done. Participating companies receive a full complement of marketing materials to help set them apart from the competition.
Surfacing Industry News eNewsletter
Get up to date on the latest happenings within the industry, get great ideas for your own company and provide feedback by subscribing to the ISFA quarterly eNewsletter, "The Surfacing Industry News."
Other Fabricator Benefits
Unlimited consumer leads
Ability to become an ISFA Certified Professional
ISFA Mentor Program
Free Fabricator Technical Support
Free classified advertising in Countertops & Architectural Surfaces magazine
Access to the ISFA Marketplace – industry discounts on products, tools & services
Discounts on Business Services
Discounts on training
Trade Show/Conference Discounts
The opportunity to hold a leadership position in the Association
Incredible discounts on web site design & hosting
Access to member's area of the ISFA Web Site
Discounted/Free access to ISFA Networking Events