Staying Ahead of the Curve
Manhattan Building Remodel Features Monolithic Sculptural Solid Surface Structures
By Kevin Cole, Editor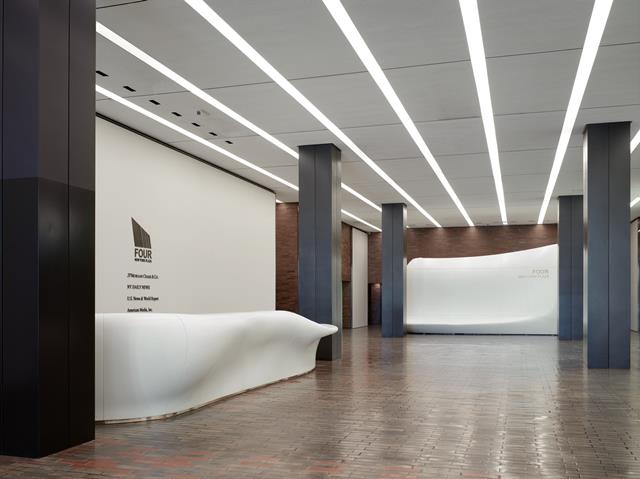 When Harbor Group International purchased the 22-story, 1.1 million-sq.-ft. office building in Lower Manhattan that houses JP Morgan Chase, they may not have had giant sculptural solid surface elements in mind for the lobby, but that's what they ended up with. And in the end, they smiled all the way to the bank.
The real estate investment company based in Norfolk, Va., purchased the building at 4 New York Plaza for $107 million and shortly after brought on design firm Studios Architecture NY to spruce the place up in a big way. In addition to housing the offices of JP Morgan Chase, the building is also home to the New York Daily News, U.S. News & World Report and American Media, which called for a lobby that reflected the stature of the tenants.
Designed in the Brutalist style of architecture that flourished from the 50s to the mid-70s, the building has a very linear, fortresslike and blockish look that critics of the style may find "cold" and unappealing. However, Studios Architecture found ways to combat this perception using contrast, rather than just destroying the bold stature of the original design.
Harbor Group approached Studios to help re-imagine the lobby of the brick building built in the late 60s, which had a dark brick and bronze palette throughout. The idea the architectural firm came up with was to use a series of selective alterations to create a new impression. While the addition of white gallery walls and some functional changes to the entrance were relatively easy ways to brighten the space and improve the flow of the lobby, the designer for the firm, Lang Shaw, had some additional big ideas that would help to animate the space.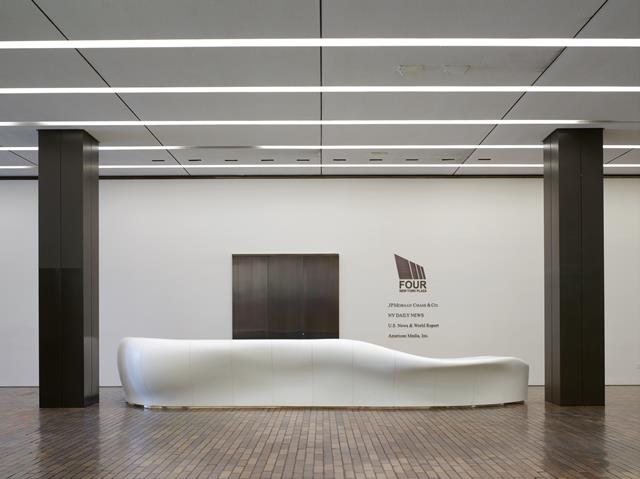 He wanted to include two monumental sculptural elements that would "activate" the space and bring fluidity and identity to the lobby, in contrast with its imposing, almost industrial structure. These were in the form of a large thermoformed solid surface reception desk (see Figure 1), which would replace an existing plastic laminate desk and bronze elevator control station, and a thermoformed solid surface newsstand kiosk with integral incidental seating (see Figure 2). Both of these features would also be stark white to contrast with the darkness and solidity of the lobby's brick walls and floor pavers, while also taking advantage of the generous scale of the lobby.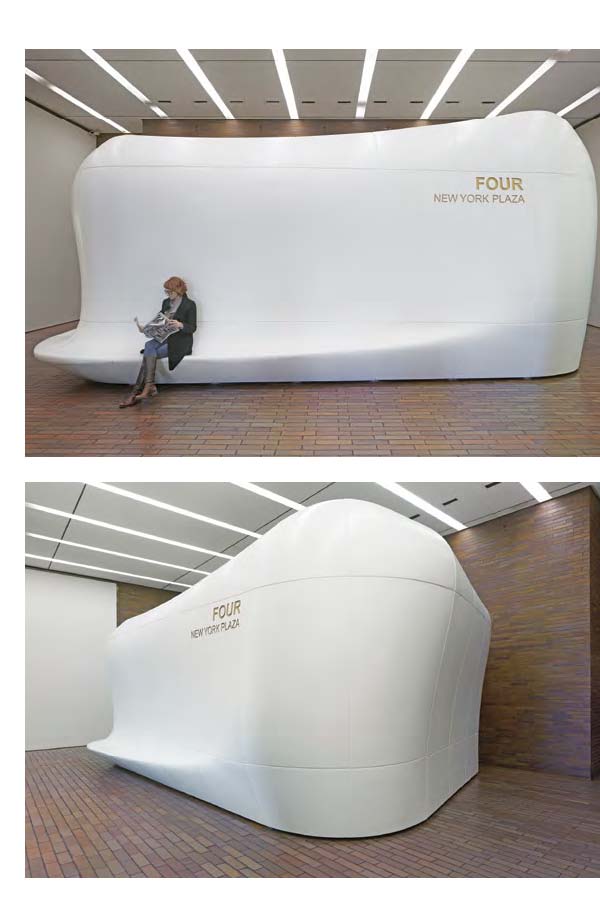 The new desk was to be 30-ft.-long with a variety of complex contours that would instill unique personality, and the kiosk was approximately 30-ft.-long by 25-ft.-wide by 12-ft.-high. Both were seamless in appearance, because of the nature of solid surface, but fabricated with intermittent reveals designed to enhance the scale and form of the elements.
So, 3-D models of the two forms were constructed, but not just any fabricator could handle the complexity involved in the building of such intricate and unique structures that were, essentially, both functional works of art. That's where award-winning fabricator Sterling-Miller Designs Inc., of Brockton, Mass., came into the picture.
The Fabricator Behind the Project
Sterling-Miller is well known for its unique and complex installations in Massachusetts, New York and around the country. Among its notable creations are landmarks, such as the Maple Avenue Park, located within an historical Victorian neighborhood in Cambridge, Mass., and the well-known "overstuffed chairs" made of DuPont Corian in New York City's Grand Central Station, as well as numerous high-end private residences.
Never one to back down from a challenging project, owner Joel Miller has developed his successful solid surface fabrication business over the course of 16 years and uncountable creations through tackling projects others may think impossible. While this originally grew out of a need to keep the workflow steady, taking on jobs others avoid has become the company's niche, and has led to a broad skill set that includes many techniques not in the typical fabricator's arsenal, such as complex modeling, reverse engineering and advanced thermoforming.
And, the company has all of the tools necessary to perform these unconventional, innovative tasks. Included in Sterling-Miller's -sq.-ft. facility are a large, 4-axis CNC machine, 7-axis robotic equipment, large thermoforming ovens, vacuum forming equipment, a gantry-crane system, 3-D digitizing equipment and highly advanced 5- and 7-axis CAD/CAM Software. These tools, along with years of experience, allow Miller to ply his trade on some of the most intricate work being performed in the solid surface world – well beyond just countertops.
"We specialize in custom solid surface applications – usually in the high-end market, but also in a production setting as a result of the machinery and technology that we have acquired over many years," explained Miller. "In the early years of our company we were forced to outsource certain non-traditional aspects of our fabrication, but we always had the goal of being self-sufficient as a company. Happily we can now say that 99 percent of our fabrication remains in house. Now, typically only metal fabrication will be outsourced."
"We have reinvested in our company over the years by acquiring machinery that has allowed us to stay ahead of the fabrication curve," continued Miller. "This has proven to be helpful in a very difficult economy. We have been able to better control costs, lead times and quality by keeping things in house. We have also benefitted by collaborating with other fabricators who have projects that require specialty fabrication. Rather than viewing these fabricators as competitors, they become partners. They are able to meet their clients' needs without making the large investment in machinery, technology and time that is associated with the learning curve of this kind of fabrication."
It is exactly this willingness to go the extra mile and work well with others, along with the fact that Sterling-Miller is ahead of the learning curve that led to the project at 4 New York Plaza.
Many Parts, Many Partners
Once Studios Architecture had developed a design for the outer 3-D surface of the kiosk and reception desk and brought on Sterling-Miller, it was up to the fabricator to figure out how to make it a reality.
Miller knew the structures had to be strong enough to not only support the functions that they were designed for, but also the weight of the solid surface exterior, so he brought in a structural engineer who designed the interior steel support structures (see Figure 3). After creating 3-D models of the steel structures, Sterling-Miller then outsourced their creation to a highly skilled firm that specialized in metal fabrication.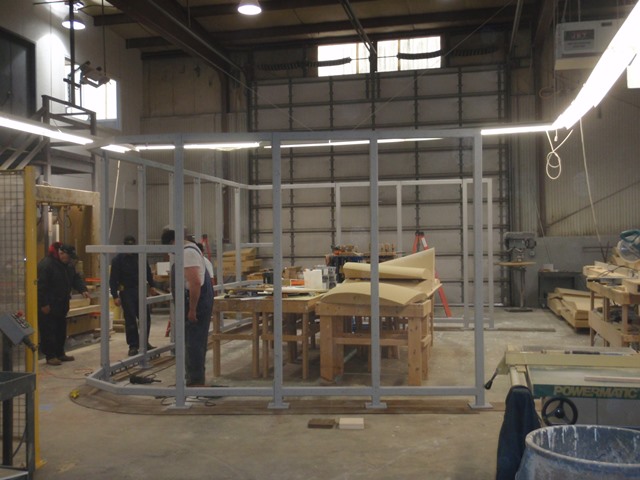 Then molds to thermoform the solid surface shell, which was made of Glacier White DuPont Corian, had to be designed and created, which was no easy task. Some of the molds were as large as 6 ft. high and 55 in. wide and weighed in the neighborhood of 300 lbs (see Figure 4). However, once the molds were created, the challenge was far from over.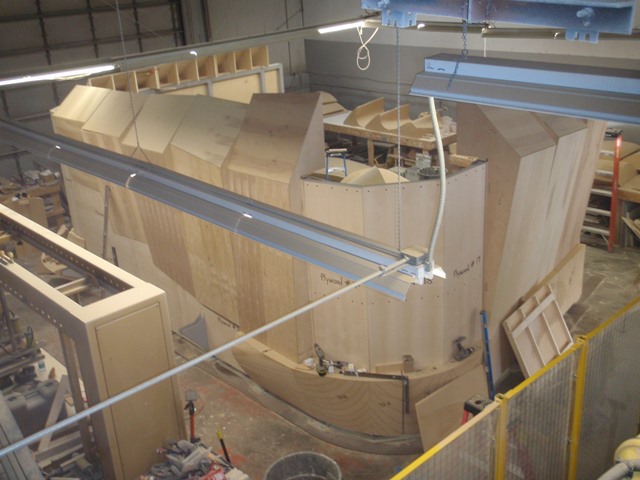 The process to create the actual forms included 7-axis machining and multi-directional thermoforming of 55 sheets of Corian. The kiosk was made up of 45 major components and the reception desk another 14 major components in addition to both of their steel structures and many other minor components (see Figure 5).

Then once the structures were complete in the shop in Massachusetts, they had to be dismantled, have all of the parts accurately labeled for shipping to New York and reassembled in the field. However, Sterling-Miller would not be handling the installation, which instead, was to be done by union installers, further complicating the process. The company also shipped its gantry crane for the installers to use on site.
To make it even more challenging, two different union installation companies were used and the building was fully functional during the install, meaning the work had to be done at night.
"It's always hard to watch someone else install your work," said Miller. "Especially when you have so much time and energy invested in the project. When you create something from scratch over a seven-month period, you know exactly where every nut, bolt and shim goes. Communicating this accurately to the installers was a major challenge."
"Building large structures made of multiple major and minor parts, by multiple tradespeople, that had to come together to create one structurally sound sculptural object was no easy task," he added. "But when it was completed, everyone was happy with the final product."
Resounding Results
While the project was not without its challenges, the final product was a resounding success, having been completed on time in the window allotted. The new sculptural elements stand in contrast to the dark and blocky original feel of the lobby, with their bright appeal and fluid shape. The renovated building also appealed on a monetary level, because six months after the completion of the project, it was sold at an immense profit.
Two investment firms, HSBC Alternative Investments and Edge Fund Advisors, partnered for the purchase reportedly paying around $270 million for the property only two years after the initial purchase at 60 percent below the selling price.
And while the lobby renovations weren't the only reason the sale commanded such a high profit margin, there's little doubt that it was a contributing factor. "All of the feedback we received was very positive," said Miller. "I'm sure the improvements increased the value and appeal of the building."
While the designer for this particular project understood the capabilities of solid surface and the benefits it could provide, Miller feels not everyone in the design community is in that same boat. "Many fabricators will agree that solid surface is an under-utilized material," he explained. "Sometimes that is due to lack of knowledge of the material and how it can be used. Other times it is a result of the perception that solid surface is an 'imitation' material."
However, he believes the lack of knowledge can be rectified. "Education is essential. We try to do this by speaking with architects and designers," he explained. "Rather than handing them a box of 2- by 2-in. samples, we show them the process and the finished product. Our website has proved very useful in this process as well."
In November, Sterling-Miller gave a presentation and a tour of its facility to 20 Master of Architecture Students from MIT. "There is no better place to start the education process than at the source of the design process," said Miller. "Solid surfacing is an important material for designers. It allows them to express themselves according to their own signature design style with limitless possibilities. Whether traditional, minimal, organic, post modern or whatever the future will bring, solid surface applications and fabrication techniques are constantly adapting and advancing. With the technology and creativity of both designer and fabricator, solid surface is a tried and tested material that becomes timeless. Its beauty is not merely skin deep but also hygienic, durable and renewable, adding long term value to every project. It's necessary for fabricators to bring the value back to the solid surface industry that has been lost as the result of trying to be the low bidder."
For more information, contact Sterling-Miller Designs Inc., 1079 North Montello St., Brockton, MA 02301-1641, by phone at 508-894-6999 or by email at info@sterlingmillerdesigns.com, or visit www.sterlingmillerdesigns.com.
Editor Kevin Cole can be reached at kevin@isfanow.org.