ISFA Continuing Education Program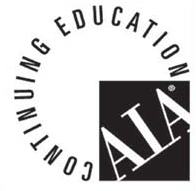 Since September of 2013, ISFA has been registered with the American Institute of Architects (AIA) Continuing Education Program. As an Approved Provider for the AIA Continuing Education System, the Continuing Education Program at ISFA has developed content for a variety of approved courses with participating ISFA members.
ISFA is responsible for the coordination of the CEU efforts, plus we provide the point-of-contact for the AIA and other professional organizations that conduct continuing education programs. The ongoing administration of the CEU programs is the responsibility of ISFA, with guidance from Continuing Education Program participants. ISFA also trains and registers presenters who will be qualified to deliver approved courses on behalf of ISFA.
The courses offer Learning Units (LU), sometimes referred to as a Continuing Education Unit (CEU); Health, Safety & Welfare credits (HSW), which hold a higher level of ranking for professional credits; or both.
The courses now offered are:
ADA for the Decorative Surfaces Industry - Course #ISFA13G4101 offers one (1) LU/HSW
Solid Surface Design Basics - Course #ISFA13SS1101 offers 1) LU/HSW
Understanding & Using the ISFA Quartz Standard - Course #ISFA13Q1103 offers one (1) LU/HSW
Surfacing Products – Healthcare Infection Control - Course #ISFA14G1101 offers one (1) LU/HSW
Design Basics for Sintered Compact Surfaces - Course #ISFA14SC4101 offers one (1) LU
The ISFA Continuing Education Program has four levels of participants:
SPONSOR: A Sponsor is an ISFA member company that, through its financial support, helps with the development and execution of ISFA's Continuing Education Program
CONTRIBUTING MEMBER: A Contributing Member is an ISFA member company that  provides personnel resources and content for the development of specific courses for ISFA's Continuing Education Program
SUPPORTING MEMBER: A Supporting Member is an ISFA Fabricator member that, through its financial support, helps with the development and execution of ISFA's Continuing Education Program
MEMBER: A Member is an ISFA member company that desires to participate in ISFA's Continuing Education Program by providing trained and registered presenters capable of delivering ISFA educational programs
In order to be able to use ISFA continuing education content, members must participate in the program through one of the levels indicated above. The benefits of being a participant of this program include:
The speaker's personal and professional reputation as a resource for quality education and information will be recognized and maintained.
The provider organization will be recognized as an excellent, unbiased source of education for architects, designers and other organization requiring CEUs.
The AIA CES Provider Network will support practice needs and maintain its stature and credibility with State Licensing Boards as a primary source for mandatory continuing education for the architecture and design professions.
Architects and designers will continue to receive the quality education they have come to expect from AIA CES Registered Programs.
If you are a business looking to enhance and grow your commercial opportunities this program needs serious consideration. Contact the ISFA office at info@isfanow.org or call (412) 487-3207 to learn how you can take advantage of this valuable program.
---
Popular Links